Summer is finally here, so get ready for some hot and muggy workouts
Summer is finally here, and while that's something we can all celebrate, it means runners are in for a hot couple of months of training. Canadians have already had a few weeks of summer-like weather to get used to the heat, but now that we've officially made it to the hottest season of the year, it's a good time to go over ways that runners can deal with warmer and more humid conditions. It takes some planning to ensure that you stay hydrated and cool during summer runs, so here are a few ways to beat the heat.
Hit the splash pad
If your town has a splash pad where kids play in the summer, it's worth planning your route so you pass by it. A quick run through the pad's multiple sprinklers will get you wet from head to toe, which will definitely help to cool you down. Of course, the splash pad was built specifically for kids, so if it's occupied, then it's probably best not to run through. If, however, the pad is empty, you should definitely take advantage of it and cool yourself down before continuing on with your run.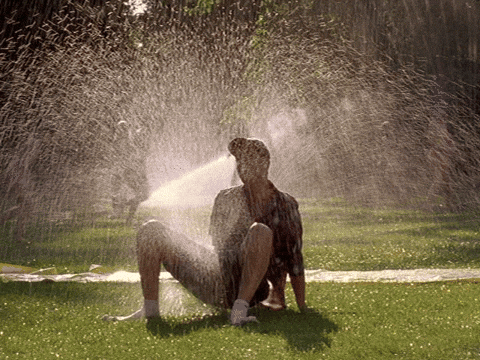 Run loops
Running short loops near your house is a good way to make sure you get water at regular intervals. Keep a bottle at your front door and stop for a quick drink every time you pass your house. You can also put some ice or a wet towel there, both of which will help cool you.
RELATED: The training benefits of running in really hot weather
Stash water along your route
Depending on where you live, you might be able to stash water at certain points along your route. This way, you can avoid the potentially boring plan of running loops near your home while still keeping hydrated. If you try this, be sure that you remember exactly where you put your bottles, and try to hide them somewhere with decent shade so the water doesn't heat up in the sun. Warm water can still help to hydrate you, but there's no denying that cold water is more refreshing.
Carry your water
There's always the option to carry your water with you for the whole run. You can simply hold a bottle as you run, or you might prefer to wear a hydration belt with bottles clipped in or a hydration vest. Whatever you choose, this is a great way to guarantee you'll keep hydrated throughout your run.
RELATED: The 7 emotional stages of your first really hot run
Bring money
If you're going for a long run, you could bring money and plan to stop to buy some water along the way. The good thing about this option is that the water will be extra cold. Plus, if you're hungry or low on energy, you can get a snack.
Finish with a swim
If you have a pool, finish your run with a dip. If you don't, try planning your route so you pass by a lake, river or pond where you can hop in to cool off. Even ending your run with a cold shower or by drenching yourself with your hose will feel great.