There are unwritten rules for running on a track
A lot of people are intimidated by running on the track, but you shouldn't avoid the track as it's the best place to work on speedwork. On a track, you can easily measure what the distance is, so you can just focus on running. Also, the flat surface is more forgiving on your muscles and joints than running on the pavement. We have some tips to help you crush your track workout.
Keep distances simple
Structure your track workout around the distance of the track. Don't stress yourself out by trying to calculate distances based on a workout you saw online. If the track is 400m, do one, two or three-lap reps and use the numbers of laps you've completed as your measurement of distance.
Obey the track rules
There are a bunch of unwritten rules of running on a track. The first is to run counter-clockwise. Bicyclists don't bike into traffic, and neither should runners on the track. It is more efficient and safe for all runners to run in the same direction. The second rule is the lane rule – faster runners stay to the left lanes while slower ones keep to the right. The inside lanes are meant for runners working on speedwork, while warm ups, cool downs and walking should all be done in the outside lanes.
If you are doing speedwork and have finished your rep, move off the track into the outside lane during your rest period.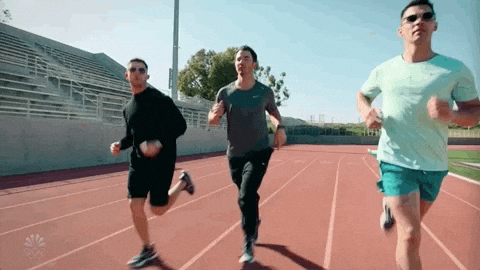 Get familiar with the lingo
A rep – Each time you complete one portion of your track workout.
Recovery – The rest between each rep. The easy part.
Sprints – An all-out effort over a short distance.
Strides – Super short sprints — maybe 50 metres or less, at nearly max effort (comfortable sprinting).
Drills – Warm up exercises you do before your track workouts, such as high knees, butt kicks, walking lunges, and strides.
TRACK! – This term is usually yelled and it means to clear the way — so if you're the one being passed, you should move out of the way immediately.
Splits – A split per kilometre during a long run means the same thing on the track. If you are running 400-metre reps, you'll want to check your time after you complete your lap.
Four-hundos – A term for 400-metre repeats or one lap repeats on a track.
4x(800, 2×400) – Not a math equation, actually a track workout, which equals four reps of 800 metres, then two 400 metres.
Bring a stopwatch
It can be easy to run too fast on the track. You will need something to easily gauge how far and how fast you've gone. A running watch or stopwatch can measure your running speed, such as how long it takes you to run one lap of the track. This will make sure you are not starting your workouts too hot, and still have enough gas in the tank to finish. If you are doing five reps of one lap, try running at a moderate pace for the first rep and improving your time by two or three seconds on each rep.
Don't race other runners
You are both there for the same purpose, focus on training: There is no need to engage in a race with other runners using the facility.