From wearing Crocs to jeans, here are some of the worst things you could choose to wear on race day
Photo by: Photo: The Gentleman Journalist
There are some wacky running records out there. Every year at the Scotiabank Toronto Waterfront Marathon, there are dozens of record attempts in the half and full marathons, with runners showing up with costumes, handcuffs to attach themselves to partners for the run and balls they will juggle while on the course. These records are contested at races all over the world, and while they're all impressive, some sound more painful than others. Inspired by these record-holders, here is a list of some of the worst and most uncomfortable outfits a runner could choose to wear on race day.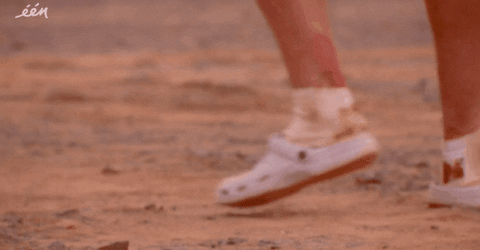 Running in Crocs
It's OK, you can admit that you like Crocs. They might not look like the slickest pair of shoes out there, but they're pretty comfortable. They may be great for lounging around, but they are most definitely not made for running. You can't tighten them, and they lack the cushioning required for even a 1,500m run. Despite this, people have raced in them. In fact, an entire family showed up to a race in 2017 sporting the beach shoe. They all ran well, and the son ran a mind-boggling 1:11 half-marathon, but just thinking about pounding the pavement in Crocs for 21K makes our feet hurt.
RELATED: North Carolina woman runs a 5:12 mile wearing Crocs
Ultrarunning in jeans
After arriving in Mongolia for a 100-miler and finding out that his luggage had been lost, Peter Messervy-Gross, a runner from Jersey (one of the U.K.'s Channel Islands), decided to run his race anyway. The ultramarathon, the Rat Race Bucket List Mongol 100, was a four-stage event in -25 C temperatures. Messervy-Gross's luggage had contained his cold-weather gear, including his sleeping bag and food for the race. Instead of skipping the race, he ran it in the clothes he had on — jeans and dress shoes. Running in jeans for a mile would be bad enough, but 100 is next level. Imagine the chafing.

A marathon in a suit
German runner Felix Mayerhöfer set the Guinness World Record for fastest marathon in a suit at the 2017 Hamburg Marathon when he ran 2:42:59. A lot of people find suits uncomfortable on a good day, but going for a 42K run in one would make for even more discomfort. Adding Mayerhöfer's pace (he averaged 3:52 per kilometre) makes it even more impressive.
RELATED: Australian sets snazzy new record for fastest marathon in a suit
A jog in a sleeping bag
Running in Crocs, jeans and suits are all odd choices, but at least they're all clothes. At the 2019 London Marathon, a runner named Ben Burfoot ran the 42K course in a sleeping bag. He actually did pretty well, finishing the race in 3:41:59, but it must have gotten so hot in there. Unless you really want to break Burfoot's record, we don't recommend going for a run in a sleeping bag. Instead, just save it for, well, sleeping.
Out for a quick 18 (or 21)
Similar to the sleeping bag record, running with a golf bag is not something most runners would ever want to do. At the Oakville Half-Marathon in 2018, Robert Winckler of Guelph, Ont., did just that, setting the world record for the fastest half-marathon with a set of golf clubs with a time of 1:57:58. Winckler had 13 clubs in the bag, which chafed his back a lot throughout the run. Again, if you want to go after this record, you've got our full support, but if not, the only time you should be running with your golf clubs is if you're worried you're going to miss your tee time.